Why Enterprise mobility solutions become important for ecommerce stores?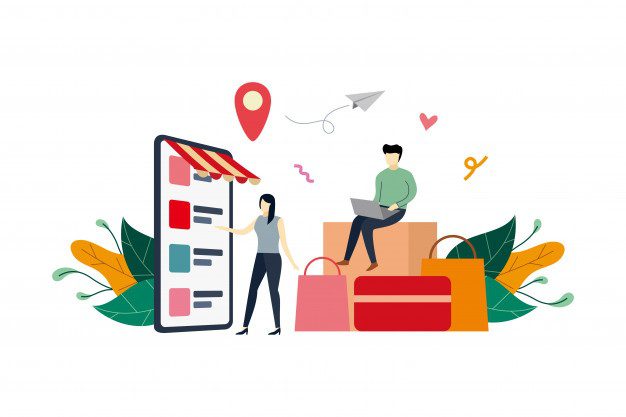 Business operations are going through a paradigm change from E-Commerce to M-Commerce. As mobile technology is growing rapidly, enterprises consider leveraging the benefits of increased mobile devices' penetration all over the world. There, the idea of M-Commerce or mobile commerce wins the ground. E-Commerce offers an online shopping platform for any business. Along with providing online presence to any business, E-Commerce allows both promotion and trading of products while M-Commerce offers the same advantages along with benefits of penetration among mobile devices. In order to tackle the challenges and increasing competition, mobility solutions have become a top priority for many E-Commerce businesses.
The future of the retail and eCommerce industry depends on technology. As a matter of fact, eCommerce is evolving constantly and in order to accomplish competitive edge over others, it is important to transform the changes occurring around very rapidly. Over the past few years, there has been an expansion in interest around mobility solutions among businesses. Enterprise software enables the retail and eCommerce industry to offer swift customer service, minimize operational costs and gain new business opportunities. Moreover, real-time decision-making becomes more convenient with enterprise software.
What is enterprise mobility?
Enterprise Mobility is also referred as Enterprise Mobility Management (EMM), which incorporates the extended processes involved in managing data that is stored in a remote location-usually a cloud. Enterprise mobility management (EMM) is software that enables companies to securely allow employee use of mobile devices and applications.
In addition to security concerns, Enterprise Mobility Management software also allows employees to be more productive, because IT departments can offer them the applications and information they require to perform work-related tasks on mobile devices. Enterprise software can help companies bring their own device (BYOD) environments to organize a range of device types.
It typically includes endpoint management that monitors which data is available to particular users and which devices are being used. Enterprise Mobility Management, Mobile Device Management, and Mobile Threat Management solutions, all helps in ensuring the safety of the environment.
Simply put, Enterprise Mobility refers to exchanging information about the organization across different devices (mostly mobile), so an enterprise can be managed from various locations. This is particularly relevant for specific business sectors, such as transport and logistics, which require real-time management of different information.
Benefits of Enterprise Mobility
Perhaps one of the most important benefits of enterprise mobility lies within its title. A good enterprise mobility management liberates an enterprise and its employees from being trapped in one location when it comes to completing a task or a project. There is a huge success in Enterprise Mobility, but why is it happening? Why are companies adopting mobility solutions? Let us explore some of the key advantages of adopting enterprise mobility solutions.
1. Better Collaboration
One of the main benefits of enterprise mobility management is efficiency gains from the 'anywhere, anytime' access. Businesses can access email, web conferencing tools, and instant messaging easily by using mobile collaboration apps that, in turn, allow managing tasks and workflow even while employees are traveling or in rush. When merged with advanced cloud trends, mobility solutions can further maximize collaboration, considerably improving the operational proficiency and changing the existing business models.
2. Enhanced Customer Experience
Enterprise mobility allows businesses to respond to grievances, inquiries, and requirements of the customers regardless of time and location, which ultimately improves brand loyalty and brings excellent business opportunities. Enterprise mobility management does it in style and makes the process 'paperless' seamless.
3. Improved Quality Service
Mobility solutions help automate the business operations and speed up the core business processes. Based on the searching patterns, user behavior and buying history, eCommerce businesses can display products that their customers are more likely to purchase, resulting in a personal touch and unique experience to the client service.
4. Wider Reach
There has been a huge increase in the use of mobile apps compared to websites that allows enterprises to reach more audiences that they would not have reached otherwise and improves the location-based sales and marketing — opening a new province yet to be explored.
5. Increased Conversion Rate
The steady and better connectivity with customers lead to greater possibility of conversion. Enterprises can incorporate mobile apps in their business strategies to improve brand awareness and bring new business opportunities. Mobile apps enable interacting directly with potential customers and closing a sale.
Why & How to Turn your Shopify Store to Mobile App?
Every entrepreneur is now relying on online shopping platforms, as no one has the time to go shopping in person. Instead, customers are becoming increasingly interested in online shopping. Shopify is a most widely used online shopping platform that includes whatever you'll require or want for your online ecommerce shop. Shopify is packed with lots of features to help you launch and manage your ecommerce shop. When you are planning to create a website for your retail or eCommerce industry, you may feel devastated by the number of options that are available to choose from. It is recommended to select Shopify to build your retail and eCommerce industry solution as it is the most cheapest, convenient and easiest of all. Such a solution will help you build your store easily and start selling your products and services directly.
So, do you own a Shopify business Store? If not then keep reading to build your own shopify app store.
Importance of shopify app store
The advancements in technology have made mobile phones an important element in our lives. The features like ease of use and convey ability have made them the perfect solution for connecting the world. Shopify offers advanced features through a plugin/application framework that enable you to buy, install, and customize your ecommerce shop. If you experience any difficulty with your ecommerce shop, Shopify will offer you the support that you want to solve. It's a one-stop solution for online shopping platforms for business owners who want to make the most of their ecommerce shop.
This simply means that you should transform your Shopify website to shopify app store! Just like a Shopify website, the shopify app store is used by the customers to buy from the store. The customers will download the mobile app only if they feel reliable using it. Again the user buying experience the shopify app store will provide, the more customers will go for it. Shoppers use such an app to stay updated with seasonal discounts, new product launch, clearance sale etc. So, building a mobile app for your shopify app store comes with tons of benefits.
Final Words
A Shopify app store or other self-service portal for app delivery and deployment is a common element of enterprise software. In the province of digital business where customers want a service or product at their convenience, enterprise mobility offers an opportunity to get instant access to the needs of consumers and interact with them in the way they are comfortable with.
If you are planning to integrate enterprise mobility solutions with your eCommerce business, you must consult or hire a mobility specialist having requisite expertise and skills. You can count on Sensation Solutions for your mobility requirements — be it the improvement of app usability, revamping of mobility platforms or creation of a new app from scratch. We have a team of experienced mobile app developers who can help in developing robust and rapidly deployable mobility solutions that are best fit with the business requirements of the enterprises. Contact us to know more about our enterprise mobility services.